Ticketing
You are reminded that this is NOT the Official site of Croydon Tramlink. Information is correct to the best of my knowledge but no responsibility can be taken for inaccuracies, nor can information here be used as justification to Tramlink Revenue Staff if you are found not to be in possession of a valid ticket!
Further information on Ticketing can be found on the Transport for London Website.
You must have a valid ticket BEFORE travel or you may be liable to a Penalty fare. You can not buy tickets on the tram. Regular inspections are made. Tickets should be retained until you leave the tramstop at your destination.
The following tickets and passes are available for journeys on Tramlink :-
The Cheapest Way to use Tramlink is by Bus Passes or Travelcards
Alternatively, Use Oyster Pay As You Go for Cheaper Fares
Oystercards and Oyster PrePay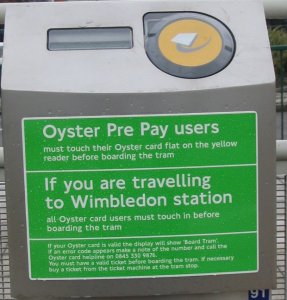 Oystercards
Oystercards holding Travelcards, Bus Passes or other tickets of the types listed above are valid in the same way as their paper equivalents. Tramlink revenue staff have Oyster Readers to check their validity. Oyster Cards are available online and are available in some Hotels and Tourist Offices.
Oyster Pay As You Go
Tramlink journeys cost just £1 with Oyster. New Deal and 16-17 holders pay 50p.
Oyster cards are available for a returnable deposit of £3 from Ticket Stop Outlets if required. Oystercards can then be loaded with Credit of up to £90 at a LUL ticket machine, Ticket Stop outlets or online. This Credit can then be used in place of cash to buy tickets. Oystercards are transferable.
Touching In or Out
On Tramlink, simply touch IN the card on the Oyster Reader before boarding each tram. Only touch in, do NOT touch out as you will be charged twice. At Wimbledon, you MUST Touch IN on the reader on Platform 10, even if you have already used the Ticket Barriers. Holders of Freedom Passes, or Child Passes must also Touch IN if travelling to Wimbledon in order to allow them to exit the station Ticket Barriers, or to transfer to LUL District Line without being overcharged.
Price Capping
Price capping is now in place resulting in a maximum daily charge (0430-0430 daily) of £3 (50p less than cost of a one day bus pass) regardless of usage. Oyster Pay As You Go can be used on Tramlink feeder bus services or for changing trams to complete your journey. You will not be charged twice as long as your connection is made within 70 minutes of first touching in.
For further information on using Oyster on Tramlink, visit oystercard.com.
Travel Cards and Bus Passes
Feeder Bus Services
Through tickets are available between trams and designated TfL feeder bus services T31, T32 and T33 at no extra cost. To use your tramlink ticket on these buses, Tickets must be purchased to "Addington+Bus". They allow a single journey changing between Bus and Tram at either New Addington, Fieldway or Addington Village Interchange.
You can purchase tickets from the bus driver on feeder buses to "Tramlink Zone 4" or "All Tramlink Zones (3&4)" at the normal Tramlink fares, or use your Oyster PrePay but you must touch both the bus and tram stop reader.
Travelcards
Any Travelcard covering any of Zones 3, 4, 5 or 6 are valid on ALL trams. This is for both one day or period tickets. One Day Off Peak Travelcards are only valid after 09:30 Mondays - Fridays, any time at Weekends or Bank Holidays.
Take note that although any of these Zones will cover all of Tramlink, you must have the correct Zones if interchanging with National Rail services. You require the following Zones for the interchange stations: -

Wimbledon - 3
Mitcham Junction - 4
West Croydon - 5
East Croydon - 5
Elmers End - 4
Birkbeck - 4
Beckenham Junction - 4

Bus Passes and Period Tickets
One Day and period Bus Passes are valid on ALL trams and are suited for regular commuting on Tramlink. One Day and 7 Day passes can be brought from the Tramlink Machines. Longer Period Tickets can be brought from Ticket Stop outlets and are only available on Oyster.
Prices are: -
One Day: £3.50
7 Day : £14 (£6.00 16-17 and New Deal, £9.70 18+ Student)
Monthly : £53.80 (£23.10 16-17 and New Deal, £37.30 18+ Student)
Annual : £560.00 (Not available for 16-17 or New Deal, £388, 18+ Student)
Bus Saver Tickers
Bus Saver Tickets are NOT valid on Tramlink.
Free Passes
Freedom Passes for London's Elderly are valid for free travel on Tramlink at all times except between 04:30 and 08:59 Mondays - Fridays. Freedom Passes for Disabled and Blind Persons are valid at any time to permit them to travel to work. Elderly passengers who are also disabled should claim for a Disabled Persons Freedom Pass to allow travel at all times.

Any Passenger in a Wheelchair can travel free at any time.
Also valid are British Rail staff travel passes (it need not be "dated" for use on that day, but must obviously be within its period of validity overall), and a number of private rail companies staff travel passes. These passes are generally issued for Leisure Travel only and should not be used for journeys to and from work. Please check with your employer before travelling.
Tram Cash Fares available at the Tramstop Machines
Tramlink operates a Flat Fare system. All journeys cost the same, regardless of distance travelled.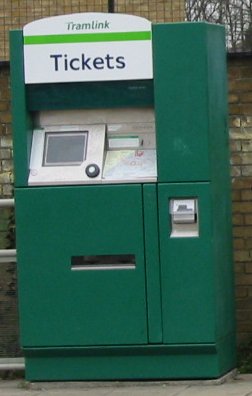 Adult Single
The Single Cash Fare is £2. Single Cash Fares are valid for 90 minutes from the time of purchase. You can save money using Oyster Pay As You Go - see below.
You should select "Tramlink (Zones 3 & 4)" from the machine. If connecting with Feeder buses T31, T32, T33 in New Addington, you must select "Addington + bus". The same fare applies if using the feeder bus.
Returns
Return tickets are available for twice the single fare on all tickets. The outward journey is valid for 90 minutes from the time of purchase, and the return journey must be made before 04:29 the following day.
Multiple Tickets
If you are buying more than one ticket to the same destination or of the same type (eg. 2 Adults and Two Children), you can save time at the machine by selecting "Multiple Tickets" at the second stage of the menu system. Simply choose the number of tickets of that type and either choose "Finish" to complete the transaction or "Add Tickets" if others are required.
All tickets include transfer between routes to complete your journey.
Child, Student and Reduced Rate Fares
This area of Tramlink Ticketing is very complex - see the TfL Leaflet for full details.
Child fares are largely redundant now but are available for those Children who don't have a Photocard, those with 16-17 Photocards not elegible for free travel, those with New Deal Photocards, or whose Child Oyster Photocard has been forgotten or withdrawn. Child Fares are not available after 2200.
Aged Under 10
Children up to the age of 10 travel free on Tramlink. No Photocard is required.
Aged 11 to 13
Children up to the age of 13 travel free on Tramlink. Photocards are not required unless travelling to Wimbledon. If travelling to Wimbledon, a Child Oyster Photocard is required to open the barriers.
Aged 14 to 15
Children aged 14 and 15 require a Child Oyster Photocard to permit free travel on Tramlink.
Aged 16 - 17
Children aged 16 and 17 living in London and in Full Time education can apply for a 16-17 Oyster Photocard to permit free travel on Tramlink.
Children aged 16 and 17 not elegible for free travel can apply for a 16-17 Oyster Photocard to purchase Child Fares at 50p per journey.
Aged 18+ Students
Students in Full Time Education aged over 18 and studying in London can apply for a Student Oyster Photocard. This permits discounts of 30% on Weekly, Monthly or Annual Passes and can be used as Standard Oyster Pay As You Go for Adult Cash Fares.
Child Oyster Photocard
These can be obtained using forms at Post Offices. Proof of Age and Photos are required, and a £5 administration charge is payable. Child Oyster Photocards are a privilege and can be withdrawn for poor behaviour on buses or trams.
New Deal Photocards
Employment seekers on the "New Deal" programme can apply for a New Deal Photocard, enabling them to purchase Child Fares at 50p per journey.
Through Ticketing to London Underground and National Rail
London Underground
Tickets are available now from Tramlink machines to London Underground stations via Wimbledon. Select "LUL Zone x" tickets for the Underground Zone you need to travel to. Note that these tickets are only valid via tram to Wimbledon and onwards via the District line. They are not valid on National Rail services. Through tickets to Tramlink are also available from selected LUL stations, especially on the District line.
National Rail
It is possible to buy through tickets from any station to destination "TRAMLINK" which will be priced as a £1 supplement to the standard rail fare to the interchange station. For example, a ticket from 'West Wickham' to "TRAMLINK ELMERS E" would be valid to any Tramlink destination, interchanging at Elmers End. Through tickets from Tramlink machines to National Rail are not available. You must buy separate tickets.
Penalty Fares
You will be liable to a charge of £30 if you do not have with you, to show when required, the right ticket covering your entire journey. You must have a ticket BEFORE you travel. If a machine is not working, you should try another at the stop. If both are broken, Revenue staff will know this. If charged a Penalty Fare, you must give your correct name and address to the inspector. You then have 21 days to pay the reduced fare of £20. You can pay on the spot by cash or by Cash, Cheque or Credit/Debit card at the Tramlink Shop. After this period, The charge is £30 and failure to pay will make you liable to legal proceedings.
You can appeal against a penalty. Full details must be made in writing within 21 days to the Tramlink Shop. Further details are in a leaflet available from the Tramlink Shop.
Whilst travelling on Tramlink or when on the stop after leaving a tram, you must hand over your ticket for examination to a member of staff (or Police) when asked. They have the right to withdraw a ticket and you may be prosecuted if it is believed that you are trying to avoid paying the correct fare. Further details are in the Tramlink Conditions of Travel available from the Tramlink Shop.
Ticket Enthusiasts
More information on Ticketing including photos of the Ticket Machines, Tickets, Penalty Fares Notice and a history of changes to the Tramlink Ticketing system can be found on the Ticketing for Enthusiasts Page.
This page is designed for Passengers.

Designed by Trapdoor Internet Services