Tram Stops
There are 39 tram stops - most are 32.2m long and all are 350mm above rail level. They line up exactly and closely with the doors and are all wider than 2m. This allows for wheelchairs, prams, pushchairs and the elderly to board the tram easily with no steps. In street sections, the pavement is integrated with the tramstop.
Tramlink uses some former Railtrack stations (Wimbledon - West Croydon and Elmers End - Addiscombe lines were taken over). The existing platforms have all been demolished and rebuilt to meet modern standards. The only exceptions are at Elmers End and Wimbledon where the track level is raised to meet the higher platforms - this is to enable cross-platform interchange.
38 stops opened as part of the phased introduction of tram services in May 2000. Centrale Stop, in Tamworth Road opened on 10th December 2005 following a major fiasco over the finances. Ampere Way stop was renamed IKEA Ampere Way on 18th October 2006.
All stops have disabled access, raised paving, CCTV, a Passenger Help Point, a Passenger Information Display, litter bins, a ticket machine, a noticeboard, lampposts and most have seats and a shelter. Continue down this page for comprehensive coverage of these features!
A Typical Tram Stop - King Henry's Drive
Click on the features for a closer look: -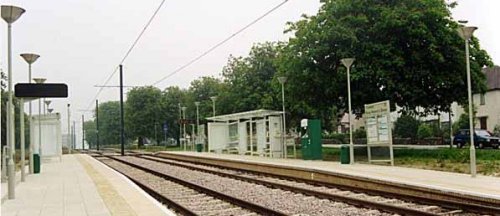 Photo (c) 2000 John Bradshaw
Lamppost

Each tram stop is lit at night by lights like this one at Gravel Hill. They glow orange in the dark and each has its own sensor on top to turn it on and off as it gets dark.
CCTV Camera

All stops are covered by CCTV which is monitored in the Control Room at Therapia Lane. This aids passenger security and provides a deterrent against vandalism. The cameras are capable of turning in all directions (unless restricted for residents privacy) and they have remarkable zoom on them. Controllers are able to record evidence where necessary should an incident occur. All stops have at least one camera.
If the Passenger Help Point is activated, the camera automatically zooms in on the Help Point, the picture is displayed on Control Room Monitor, and recording is initiated.
See the Control Room Page for more information on the CCTV Controls.
Passenger Help Point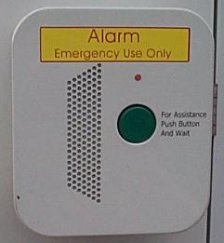 The Passenger Help Points are provided for emergency use only. On pressing the button, you are connected to the Control Room at Therapia Lane. You can then talk to the Controller or they can talk to you. Once the button is pressed, CCTV cameras zoom in on you and recording is initiated.
Passenger Information Display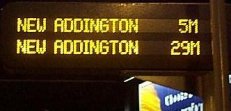 All stops are equipped with an electronic Passenger Information Display (PID) or Next Tram Indicator. These display the destination and expected arrival times of the next two trams. They can also display any message the controllers want to display. This could be information on delays or even direct instructions to vandals to stop placing objects on the track!
For further, more detailed information, see the Passenger Information Display Page.
Ticket Machine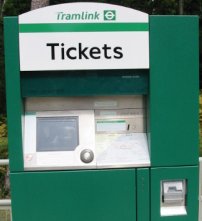 All Stops have Schlumber ticket machines like this one. The machines feature an electronic display and are operated by a simple toggle wheel. All stops except Reeves Corner have at least 2. If one is out of order, you should use the other. They are emptied daily and remotely monitored from the Control Room.
For more information, please see the Ticketing Page.
Noticeboard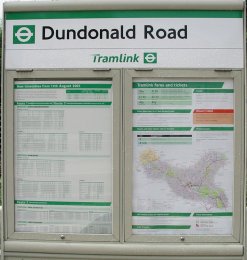 All stops feature at least one Noticeboard. This has the stop name at the top, the timetable in the left hand pane and a route map and other information in the right hand pane.
Shelter and Seats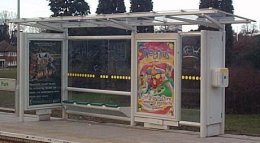 All stops except Reeves Corner have seats and almost all stops have shelters of some kind. These are of a modular design and the shelter size varies depending on the number of people that are expected to be waiting at that platform. For this reason, inbound platforms (towards Croydon) often have larger shelters. Many shelters incorporate a BT Payphone. All have lighting and most have illuminated advertising as part of the structure.
Litter Bin

This page would not be complete without the litter bin! Most stops have them. There are two sizes, a free standing one (seen here) and a half size one fixed to the back fence. They appear to be far too small for the job and are often overflowing despite being emptied daily. They were apparently designed mainly for used tickets. New, larger bins have now been provided at some stops.

Designed by Trapdoor Internet Services