See photos below text: -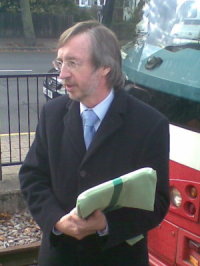 Roger Harding speaks at the naming ceremony
Beckenham Junction - 20/10/07
© Mark Hatton
At midday on Saturday 20th October 2007, tram 2535 was officially named "Stephen Parascandolo" by Roger Harding, General Manager of Tramlink.
A sizeable crowd of family, friends and enthusiasts attended the event at Beckenham Junction tram stop, to see the freshly-cleaned tram unveiled with its new nameplate. The tram was brought in to Beckenham Junction out of service with "Special" on the destination indicator. The tram was held in the secondary platform of the stop (nearest the road) so as not to disrupt the normal public service, which continued through the event.
Roger Harding gave an excellent speech outlining Stephen's achievements around Tramlink, including many fascinating anecdotes about Stephen's influence on the service. During this speech, the tram formally received its new name, and replica of the nameplate was presented to Stephen's parents.
Stephen's father also spoke about his son's connections with the tramways, and thanked everyone for their support during the year. He then invited those people in attendance to join them on the newly named tram to go to Harrington Road, from where they walked through the crematorium to visit Stephen's plaque in the Garden of Rememberance.