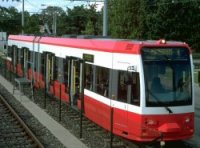 2530 - Vienna Test Track, Austria
© Harald A. Jahn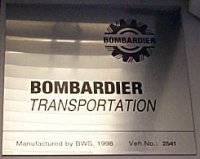 Bombardier Plate inside 2541
© S.J.Parascandolo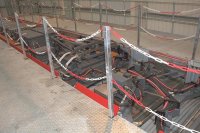 Roof Mounted Equipment and Pantograph
Croydon's trams are manufactured by Bombardier Transportation at their Vienna factory in Austria. Classified as CR-4000, they are based very closely on the proven K-4000 trams. Over 120 of these trams are in use in Cologne, Germany. These are 76% low floor at 400mm above rail height with entrances at 350mm.
The choice to use proven technology appears to have paid off with virtually no problems being found with the trams themselves. Several changes have been made to enable the design to be approved for UK use and the centre articulated section houses seats where as the K-4000's have ticket machines.
Some elements of the continental design remain, noticeably the position of the drivers door on the right hand side of the vehicle, as well as the leading cabs side destination blind.
Trams are powered electrically at 750vdc by overhead wires and have a max speed of 80kph (50mph). Each tram can carry over 200 people with 70 seated - If you consider the road space needed for 200 people in private cars and then think about the road space used by a single tram, you'll get some idea about the effectiveness of these trams to move people.
The electrical equipment and traction equipment are supplied by Kiepe Electrik from Düsseldorf, Germany. See
this page
for the specifications of this equipment. Four 120kW 3-phase asynchronous motors are fitted to the two, two axle power bogies at the outer ends. The centre C-car rests on an unpowered 4 axle bogie. Each powered wheel is fitted with sanding equipment discharged by the traction system or manually by the driver. Due to the low floor design, all the traction equipment is on the roof of the tram.
Croydon has 24 trams of which 21 are needed for the peak service between 0700 and 1900 Monday to Saturday. They are numbered 2530 through to 2553. This follows on from the highest numbered tram in the original London Transport tram numbering system. 2529 was scrapped long before the demise of the last trams in 1952. It is a nice touch that the numbers follow on - "Not so 'all new' as a continuation from where we left off." - Scott McIntosh, TfL