2548 - M25 Clacket Lane Services
© B.J.Cross
As stated on the Introduction page, the trams were built in Vienna. They were delivered to the Depot at Therapia Lane as one unit and not in sections as many people believe. Trams would be delivered one a week on a Monday evening at around 2030 and each took around 1 1/2 hours to unload. The only Mondays that were missed were the ones for public holidays in this country or on the continent.
Trams would leave Vienna on a Friday evening and park-up at Frankfurt in Germany during Saturday. They would then travel overnight Saturday to the the port of Vlissingen, Holland. On the Sunday they came over on a ferry to Dartford and parked-up at the port on Sunday night. During Monday mornings they would travel around the M25 to the Clacket Lane service area at Westerham arriving around midday, then park-up until around 7pm.
They would then with a police escort, consisting of a Range Rover front and rear, Patrol Car and a Helicopter overhead, travel via the M25, M23 and A23 up to the Purley Way, then Ampere Way to the Depot. The lorry would enter the Depot access road from the Beddington Farm Road roundabout, pull over and straddle the No.1 track on the concrete apron outside the east workshop doors.
They would then attach a ramp to the end of the lorry down onto the track, lower the lorries suspension at the ramp end, raise the other end, then winch the tram down the ramp into the workshop. Each tram would remain for about a week in the workshop to be checked over and have safety equipment fitted, then brake tested on the track between Therapia Lane and Wandle Park. Assuming things were OK, the tram would then be available for general training, commissioning and running in.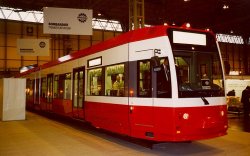 2533 - Birmingham NEC
© Klaus P. Canavan
The first tram, 2530 arrived at Therapia Lane on 13th September 1998. The contract required all trams to be delivered by the end of May 1999, but it was decided to deliver 2553 a week late due to the bank holiday weekend.
Tram 2533 was sent first to the NEC in Birmingham in November 1998 to form the centrepiece of the Bombardier display at an exhibition before being delivered to Croydon.
Tram 2541 was delivered 3 days late as it was stuck in Frankfurt with heavy snow in February 1999.