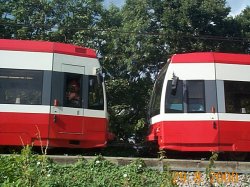 Two trams coupled together - Love Lane
© S.J.Parascandolo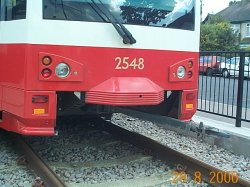 Coupler extended on 2548 at Beckenham Junction
© S.J.Parascandolo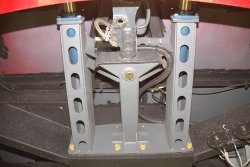 Under the front panel with Coupler retracted
Croydon, together with tram systems in Birmingham and Sheffield are not allowed by the HMRI to operate trams in multiple in regular service. K-4000 trams in Cologne, on which Croydon trams are based do regularly operate in multiple.
The CR-4000 vehicles in Croydon have simple retractable couplers for emergency use only. To get access to this, the front, lower section of skirt is removed and a handle put through the centre hole and turned to bring out the coupler. This is then joined and an electrical jumper cable usually connected between the two trams.
All personnel trained to drive a tram are also taught how to couple them up etc; as this may be needed in the case of a failure. When in service, the HMRI only let a dead tram be pushed from the rear, so, should a tram fail the next tram behind will push it into the next stop to disembark passengers, or if convenient push it into a cripple siding such as at Elmers End or Wimbledon, or one of the two tracks at a terminus.
The HMRI wanted proof of the trams ability to do this and on Thursday, 30th September 1999, trials were carried out at Gravel Hill - the steepest uphill section using 2530 and 2536. 2530 was laden with weights to simulate a full load.
After a year of service, tram towing is very rare as most failures can be resolved by attendance of a bombardier engineer and this is usually easier as long as there is no problem with the Pantograph or OHL supply. Trams were towed after each of the two Love Lane dewirements in Summer 2000 when trams pantographs had been damaged.