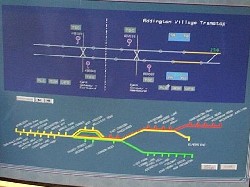 Addington Village tram stop display
© S.J.Parascandolo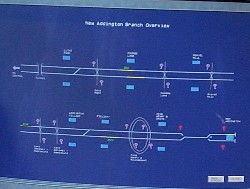 New Addington route overview
© S.J.Parascandolo
Basically this system displays the track system in a schematic form with the location of the signals, points and tram stops indicated. A tram is identified by it's fleet number and the duty it is working.
On the TMS screen a tram is shown by a yellow coloured line overlapping the lines depicting the track. As the tram passes over a loop its position is updated on the display. The controller can click on a tram stop on the overview and get a detailed display of the tramstop.
From here he can interrogate the status of each loop, point and equipment cabinet associated with the tram stop. Ticket Vending Machine (TVM) alarms and Passenger Information Display (PID) messages can also be accessed using these schematics.
The TMS also allows the Controller to instigate remote phase requests should the loop not have detected a tram approaching the junction automatically.
The trams onboard computer (VECOM) tells the system where the tram is and if it is early, late or on time at any given moment. This is done by control loops between the track.
Once the information from each tram is in the system, it can send out information such as the time before the next tram is due and it's destination at the tram stops up the line, as well as say changing the sequence of the trams around the town centre loop should one tram be running late. A warning can be given to the controller who may then decide to turn a tram short to get it back on schedule, if it is unlikely to make up the time by the time it reaches the next terminus.
For more information, please see the Signalling or Passenger Information Display pages.