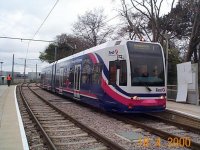 2550 (First Group) - Wandle Park
© S.J.Parascandolo
An excellent report is published on 1st April of a Weatherspoons tram with a bar on board. Numerous people fall for it (including TCL managers).
It is reported that HMRI did not actually give permission to open Route 3 - they simply said they wouldn't object if an application was made!
First Group corporate uniform is worn by all staff from 3rd April.
2535 hit a Car at Wellesley Road/George Street on the night of 4th April. The usual story of the car passing a red light although the car ended up demolishing the traffic light!
Another Accident with 2548 in Addiscombe Road on 5th April hits the headlines as it comes the day before John Prescott MP visits the system. TCL has to cope with yet another piece of bad luck and with no confirmed opening date, they have little to come back on. This accident is the tram's fault too. John Prescott arrived at East Croydon on 2543 on 6th April. The excellent opportunity to get some much needed positive publicity is wrecked when Mrs Lorna Clare of Addiscombe Road launched an attack on John Prescott at East Croydon in front of all the cameras. The press love it as Tramlink's marketing team and enthusiasts look on in disbelief. Thankfully, the BBC choose to edit her out of the report completely. More importantly John Prescott was impressed and has since done a complete U-Turn on Light Rail which is excellent news for everyone.
The Opening slips another week to April 18th.
10th April and regular tests are severely disrupted for the week while CJV try and blitz poor track.
Testing resumes but on 13th April, a severe storm strikes and a lightening bolt manages to cripple 2535 at Beckenham Junction, another tram at Beckenham Road as well as the OHL and the signalling.
Sunday 16th April and to everyone's surprise, 2550 and not 2530 is fitted with First Group Colours.
A new low is reached when testing comes almost to a stand as everything is ready except the paperwork. Lawyers argue, trams stop and progress stops.
All the Mayors of the London Boroughs took a ride to New Addington on 19th April.
Friday 21st April and new London Mayor, Ken Livingstone gives his support to Light Rail and expresses a wish for Tramlink to be extended.
Tuesday 25th April and I'm famous. I get a ride to New Addington as a Channel 5 TV Show films me all day. Friday 28th and this website and myself get 10 minutes on National TV. Positive Publicity at last!
29th April and the Railway Development Society are lucky. At their AGM, someone suggests to the speaker, TOL Chairman Peter Hendy, that they have a tram ride. He agrees and stops a tram at Church Street for a return trip to New Addington.
The week's Croydon Advertiser is a good one the front page story, "Tram Opening Grinds to a Halt in Red Tape Row" is accurate, balanced, well written and puts pressure on everyone to sort the mess out. Then in Letters, the infamous Mr Howes writes an extraordinarily stupid letter comparing trams pollution with the methane output of Ugandan cows!